Scaling? What's that? I suppose, as a way to not have your character over-powered for any given area, this is what the Devs came up with. I don't know if anything other than enchantments and runestones is affected by scaling (I did check my chest piece and it was NOT scaled), but if I find anything else I will post it here. Another bit of scaling I found is not area specific, but character level specific, Enchantment Utility Bonuses. What you see below is all taken once I hit level 80. Bonding Runestones will also scale based on character level. I need to do further testing to nail down all the character leveling changes.
Blackdagger Ruins, Blacklake, The Chasm, Ebon Downs, Helm's Hold, Icespire Peak, Mount Hotenow, Neverdeath Graveyard, Pirate's Skyhold, Protector's Enclave, Rothe Valley, Slippery Slope, Spinward Rise, Stronghold, Tower District, Twisted Gate, Vellosk, Well's End, Whispering Cavern, Yawning Portal
Port Nyanzaru
Assault on Svardborg

,

Assault on Svardborg (master)

, Barovia, Bryn Shander, Cold Run,

Cradle of the Death God

,

Demogorgon (master)

,

Fangbreaker Island

, Lost City of Omu,

Manycoins Bank Heist

,

The Merchant Prince's Folly

, River District, Sea of Moving Ice, Soshenstar River,

Spellplague Caverns (master)

,

Tomb of the Nine Gods
Caer-Konig,

Demogorgon

, Dread Ring, Dwarven Valley, The Fiery Pit, Icewind Pass,

Illusionist's Gambit (master)

,

Manycoins Bank Heist

,

The Merchant Prince's Folly

, Portal to Tuern, Sharandar: Realm of Malabog, Well of Dragons
Reclamation Rock, Sharandar: Dark Fey Enclave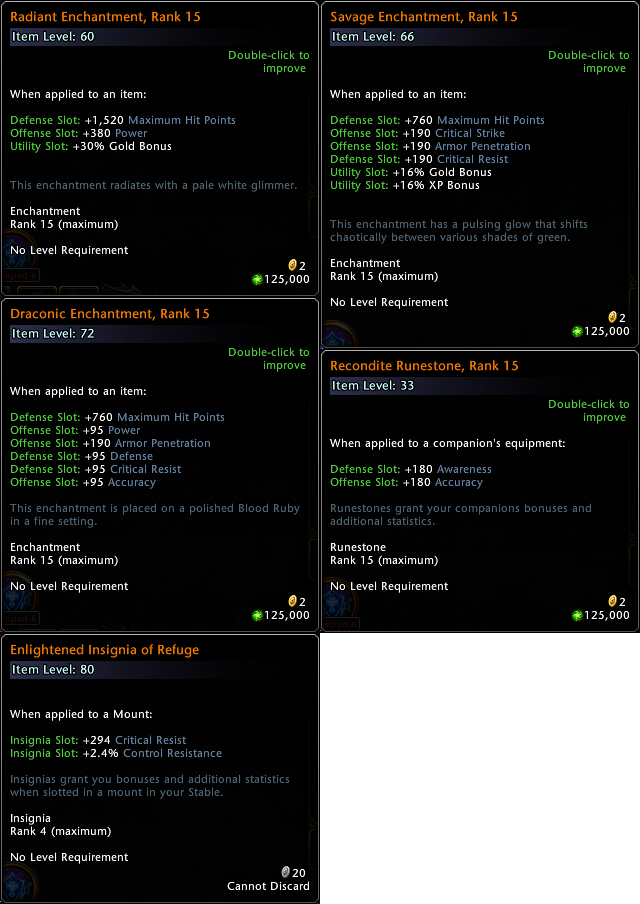 Arcane Reservoir,

Castle Never

,

Cragmire Crypts (master)

, Drowned Shore,

Gray Wolf Den (master)

,

Master of the Hunt

, Sharandar, Sharandar: Blighted Grove,

Temple of the Spider (master)
Dread Legion
Caverns of Karrundax

, Ebon Downs: Valley of the Ancients,

The Frozen Heart

,

Gray Wolf Den

, Icespire Peak: Information Acquisition, Icespire Peak: Miner's Vale,

Kessel's Retreat

,

Lair of Lostmauth

,

Malabog's Castle

, Mantol-Derith, Mantol-Derith: Beholder Convention,

Pirate King's Retreat

,

Prophecy of Madness

, Rothe Valley: Venfithar,

The Shores of Tuern

,

Spellplague Caverns

,

Temple of the Spider

,

Throne of the Dwarven Gods

,

Valindra's Tower

, Whispering Cavern: The Searing Reach
Neverdeath Graveyard: Merchant's Landing
Hotenow Caldera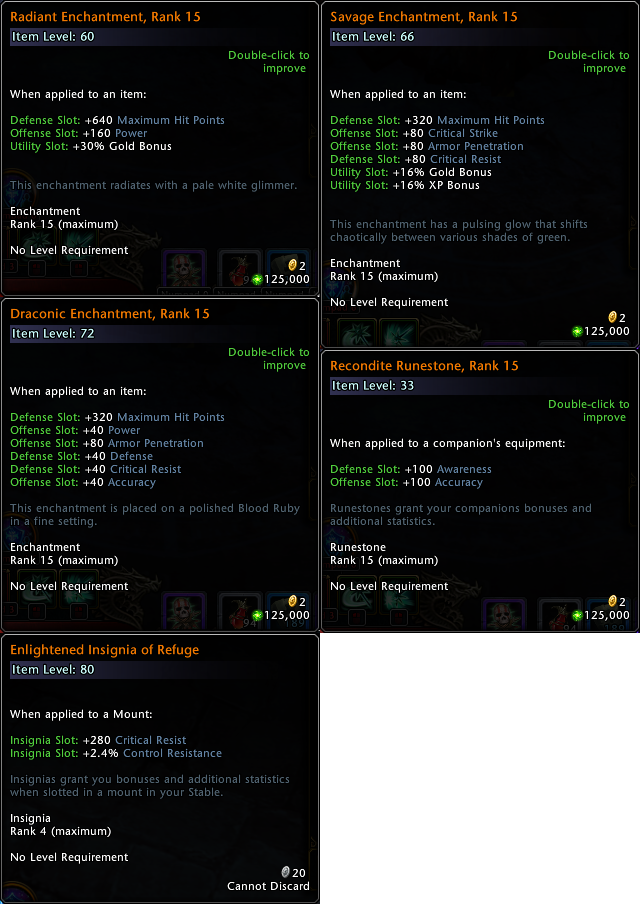 Cragmire Crypts
The Cloak Tower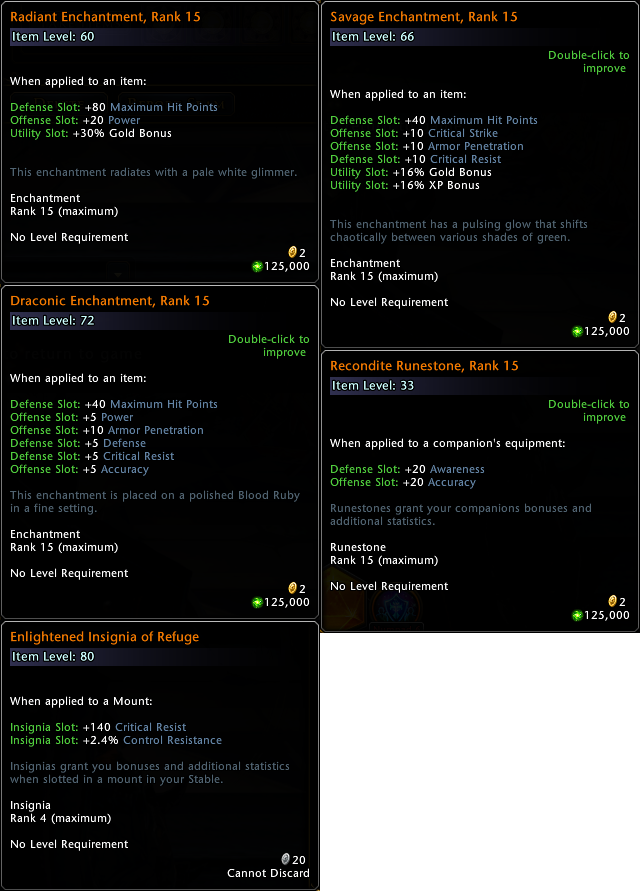 I have the majority of areas, dungeons, skirmishes, and trials covered. There are a few more that I need to check. I may go back and add in character level capping for each of the above, if it doesn't become too convoluted. I will also be adding gear item level capping in the near future.