More big changes, and this one will probably hurt a little. Legendary bonus has been replaced by a Bolster bonus. Companions have now been added to one of five categories that will offer a bonus based on their category, and the bonus you use is based on the companion you have summoned. Active Companion Bonus has been replaced by a Companion Enhancement and five Companion Player Bonuses (the five bonuses are different for each class, I haven't tested if different paragons give different bonuses). Companions can only use Bonding Runestones and Companion Only gear. Companion Only gear will no longer use enchantments in their slots and will now only accept runestones.
Runestone slots will now only accept Bonding Runestones. Bonding Runestones no longer provide Power or Defense as the slots are no longer designated Offense or Defense. Companion's Gift is now instantly available and works with normal and augment companions. With this change Eldritch Runestones become obsolete and can be exchanged for Bonding Runestones of the same rank.
Equipment slots are universal and will accept any Companion Only gear. As stated earlier Companion Only gear will now only accept runestones for its slots. There will be an exchange for Enchantments to Runestones should you wish to outfit your companion with appropriate runestones.
Companion Enhancements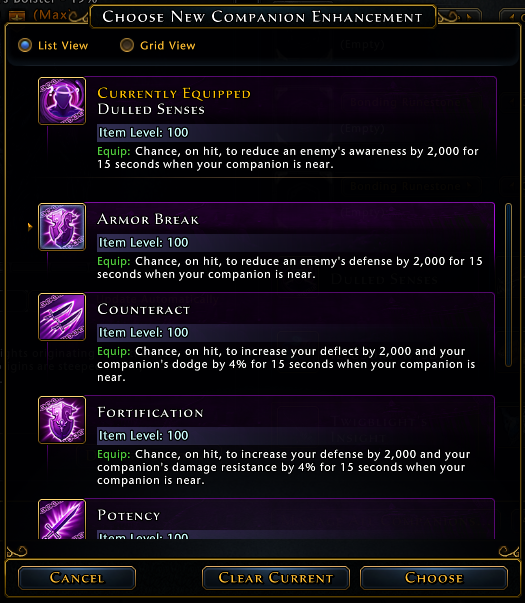 Each companion now has a Companion Enhancement and a Companion Player Bonus. You can choose one Companion Enhancement. Companion Player Bonuses are themed and can fit into multiple themes.
Defense Powers
Offense Powers
Utility Powers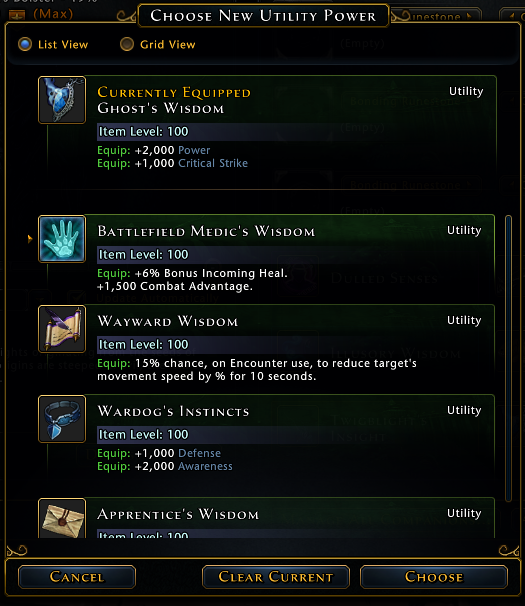 Each class will have a different number of Defense, Offense, and Utility slots to fill.
Barbarian, Fighter, and Paladin
Defense x 3
Offense x 1
Utility x 1
Cleric
Defense x 1
Offense x 2
Utility x 2
Ranger, Rogue, Warlock, and Wizard
Defense x 1
Offense x 3
Utility x 1
The more companions you have on your roster, the more enhancements and powers you will have to choose from.
Lower level characters will unlock Runestones, Equipment, and Powers as they advance much the same as we have now with Runestones, Equipment, and active Companion slots.
Companion Roster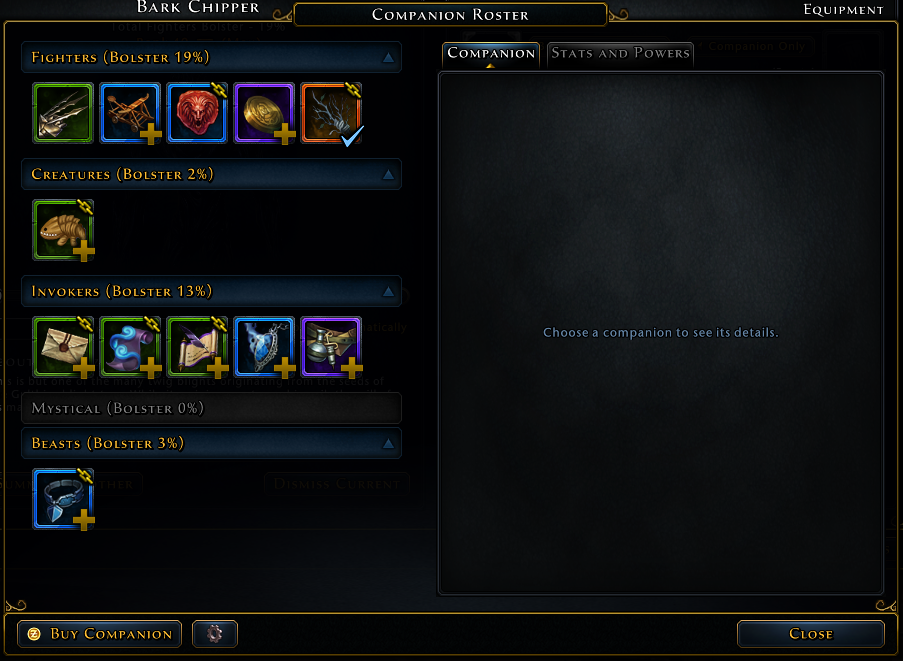 Bolster Bonus
- The total bolster value affects the attack and power of your summoned companion, if it is of the same type. The total value is the sum of the five highest companions that you have of that type.
Bolster Bonus is dependent on the type of companion you have summoned, ie if you have a Fighter type summoned you will receive the Fighter Bolster Bonus. Of course, depending on what companions you have and how far you have upgraded them, this could be good or bad.
Bad
- Your summoned companion may not be in the highest bolster bonus group giving you one of two choices. Use a companion from the highest bolster bonus group, or upgrade/purchase companions from the group of your preferred companion.
Good
- Maybe you're one of the lucky ones and you will have five legendary companions in the group of your summoned companion. That equates to a
35%
Bolster Bonus.
Bolster Bonus has been lowered in the recent patch (03/14/19), I will edit that value soon.
As of the recent patch update, the new max Bolster Bonus is now 15%.
Bolster Bonus Contributions
Legendary -- 3%
Epic -- 2.5%
Rare -- 2%
Uncommon -- 1.5%
Common -- 1%
The plus you see on some of the companion icons is there to let you know those companions are ready to be upgraded. At this time, upgrading companions has not changed.