Abilities
Strength
- Contributes to: Stamina Regeneration and Physical Damage Boost
Dexterity
- Contributes to: Critical Severity and Movement Speed
Charisma
- Contributes to: Companion Influence and Recharge Speed
Campaign Boons
These I will skip for right now because, again, the bonuses for each point are so minimal and the choices are less relevant for class/role/play-style that pretty much everyone will be choosing the same boons.
Stronghold Boons
Offense
- Choose the Power Bonus
Defense
- Choose the Hit Point Bonus
Utility
- Choose the Healing Potion Bonus
Powers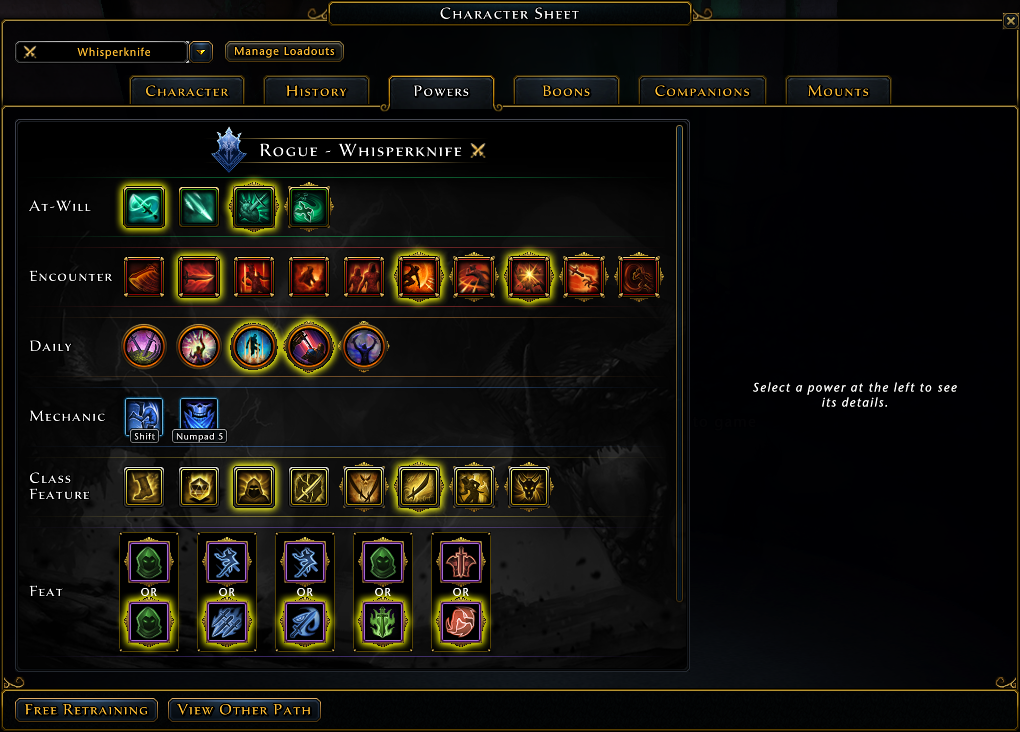 At-Wills
Encounters

Dailies
Mechanic

Class Features
Feats

Rotation
As you approach the enemy, activate
Stealth
followed by
Vengeance's Pursuit
triggering
Shadow of Demise
, hit
Vengeance's Pursuit
a second time before
Stealth
ends, follow-up with
Lashing Blade
and
Impact Shot
, filling in with
Sly Flourish
and
Disheartening Strike
for enemies at a distance. Use your Roll mechanic to stay out of red areas and use your dailies as necessary,
Courage Breaker
for single targets and
Killing Storm
for multiple targets.